Walton De-Ice at IBC 2019 Shows Portable Radome for Sports Uplinking in Extreme Weather. Develops New LEO/MEO Design
• First-of-a-kind Portable Radome for transportable satellite dishes
• Announces new design for Low Earth Orbit and Medium Earth Orbit satellites
IBC 2019 Amsterdam, September 12, 2019 -- Walton De-Ice ( - http://www.de-ice.com/ http://www.de-ice.com), the world's leading designer and manufacturer of satellite earth station antenna (ESA) weather protection solutions, announces that it now offers the Walton Portable Radome for protecting live sports satellite uplink antennas from extreme weather conditions. The Walton Portable Radome can protect transportable, trailer and flyaway antennas from high winds, sandstorms, intense heat, snow and ice.
"We are excited to showcase at IBC 2019 our new transportable solution for live uplinks in snowy, icy, and extreme conditions -- the world's first Portable Radome," says David Walton, Vice President of Walton De-Ice. "Lightweight and airline-shippable for rapid deployment, with easy setup in less than an hour by one person, it goes where no radome has gone before to help live broadcast remotes stay on air. Whether it is for snow at a Winter Olympics, burning sun and dust storms at a Dakar Rally, or heavy winds at a football venue, the Portable Radome protects both your on-air signals and your satellite equipment from damage," he added.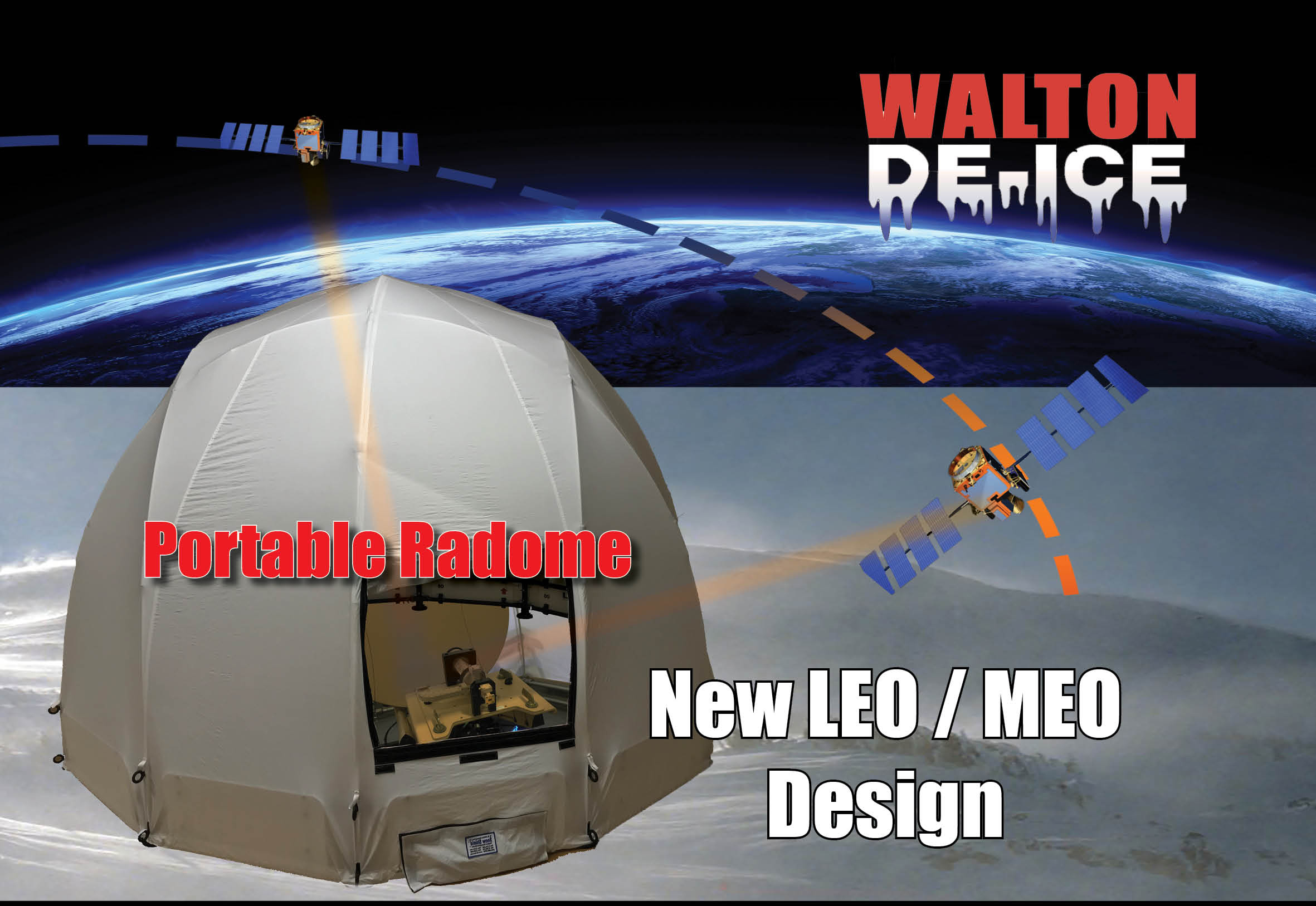 Using a fabric cover that is virtually RF-transparent over a similarly RF-friendly structure, the Portable Radome protects satellite antennas from the elements and winds up to 85 miles per hour. Walton also announced today that the company has re-designed its Portable Radome for Low Earth Orbit and Medium Earth Orbit (LEO/MEO) satellite earth station applications, enabling expanded full satellite-arc line-of-sight protection for ground antennas such as LEO gateways and MEO terminals that take advantage of low-latency, high-throughput and next-gen satellite constellations.
During IBC 2019 in Amsterdam, September 13-17, 2019, W.B. Walton Enterprises ("Walton De-Ice") will be showcasing its latest solutions at Stand 1.A62.
About Walton De-Ice
For over 40 years, Walton De-ice ( http://www.de-ice.com ) has designed and manufactured the broadest and highest performance line of De-Ice equipment available for satellite earth station antennas. From its original Hot-Air (Plenum) design for antennas from 3.7 to 32 meters, to its Snow Shield, Rain Quake , and Ice Quake systems for 0.6 to 6.3 meter antennas, to its Portable Radome for transportable applications, Walton De-Ice delivers the most innovative and effective solutions to help protect critical satellite networks from degradation and outages due to weather.
Press Contact:
Dan Freyer
AdWavez Marketing
+1 310-849-0721
dan@adwavez.com - http://www.adwavez.com