Walton De-Ice in SATMAGAZINE October 2019
FROM SATMAGAZINE.com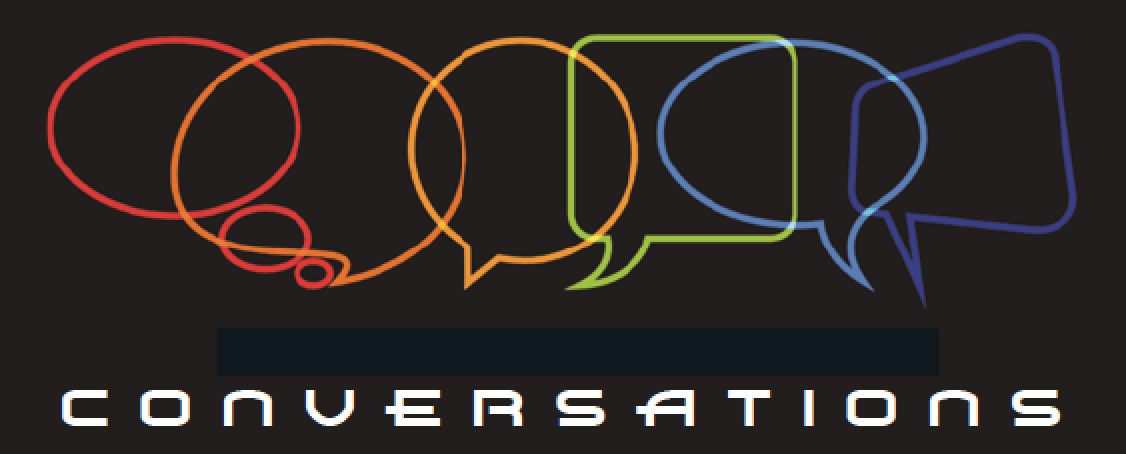 ---
Does it sound like a dichotomy? A company that is based in San Bernardino, Southern California, USA, where the temperatures are usually balmy specializes in dealing worldwide with extremes, ice and snow de-icing antennas from 3.7 to 32 meters utilizing gas and electric heating units. They must be doing something right, as the company, W.B. Walton Enterprises, has been successful for 40 years. At IBC2019, the company announced the first-of-its-kind Portable Radome for protecting live satellite uplink antennas from extreme weather conditions.



Left: David Walton. Right: Ray Powers.
"The world's first Portable Radome," said David Walton. "Lightweight and airline-shippable for rapid deployment, with easy setup in less than an hour by one person, it goes where no radome has gone before to help live broadcast remotes stay on air. Whether it is for snow at a Winter Olympics, burning sun and dust storms at a Dakar Rally, or heavy winds at a football venue, the Portable Radome protects both your on-air signals and your satellite equipment from damage."
Walton noted that De-Ice has kept a step ahead in the industry to ensure that the company continues to thrive. He is responsible for the Snow Shield products and new product development for the firm. He has more than 38 years of satellite industry experience in the design, manufacture and deployment of Earth station technology and holds several patents for his inventions in this field.
Ray Powers, Director of Sales and Marketing, been a integral part of the company for more than eight years. He ensures that the company targets and sells products that keep a step ahead of their competitors. In fact, for a first of its kind, Ray and David announced at IBC2019 that the company now offers the Walton Portable Radome for protecting live satellite uplink antennas from extreme weather conditions. The Walton Portable Radome can protect transportable, trailer and flyaway antennas from high winds, sandstorms, intense heat, snow and ice.
David explained that the company's mission is to protect Earth station antennas from various environments such as solar distortion, wind, rain, snow, and ice. Over their 40 year history, their primary objective has always been the hot air de-icing of large Earth station antennas. He added that Walton Enterprises has three primary products:
• Plenum enclosure hot air de-ice

• Snow shield/covers, passive heated or utilizing the Ice Quake Systems

• Portable radomes
Ray volunteered the following information regarding their products.
Walton's Plenum Enclosure is a hot air de-icing product. The basic idea behind hot air de-icing is that the company encloses the back of the antenna, and inside that space they circulate hot air with the use of gas or electric heaters. They then circulate that air for even distribution.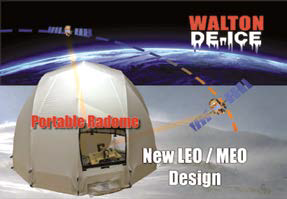 Ray said that in order to prevent Solar reflector distortion, they use a Temperature Balance Control (TBC) system to circulate ambient air, thus maintaining an even distribution of surface temperature of the reflector.
Obviously, an evenly distributed temperature is always very important due to the material properties of metals. Walton has derived a testing system, wherein they perform infrared testing in order to come up with an optimized antenna heating distribution solution.
Next he spoke about their Snow Shield/Ice Quake that is a snow shield that uses a fabric similar to radome (which is PTFE) and covers the front of the reflector. The Snow Shield Cover can be either a passive, heated or an Ice Quake System. The Ice Quake System also acts as a Rain Shield to prevent water from sheeting on the antenna reflective surface causing rain fade on a Ku- or Ka-band antenna. The Ice Quake can save electric bill fees of up to 100 times compared to conventional heating systems. The Ice Quake System doesn't need any high power conduit, trenching, or switch gear costs. The product provides an automatic moisture and temperature monitoring and control system.
The Portable Radome is the world's first. It's a product that has two options for the client — portable or fixed. Ray said that portable radome protects VSAT antennas from elements (wind, blowing sand, extreme heat, as well as ice and snow) by utilizing not only portable heaters, but also air conditioners as well. The Portable Radome serves the Earth Station and VSAT Antennas as well as Comms-On-The-Pause (COTM), essential for the military.
Ray said that as an example, the military operations that use flyaway antennas are often located in extreme desert and hot regions of the world. Under these conditions, the satellite dish and the equipment can easily succumb to high temperatures, but by protecting the antenna and its equipment with air conditioning.
David concluded by saying that their customers told them they needed a solution to keep antennas operating in extreme and harsh environments like ice, rain and sandstorms. Traditional antenna radomes are not built for transportable operation, yet many of today's military, first-responder, and oil & gas applications on land can require deployable systems where harsh elements demand radome-like protection.
He added that Walton Enterprises prides themselves in always maintaining 24/7 customer support. They offer this service for the lifetime of the product, regardless if the product was, or was not, installed by Walton technicians.

de-ice.com
---